Go Back
There is no smoke in mirrors in the dump trailer and roll off trailer business.
The famous adage, "you get what you pay for" has never been truer than in the roll off and dump trailer business. Time and time again we get the call, the other guy is selling it for $1000.00 less across town. The trailer business, and especially the dump trailer and roll off business is a high volume, low margin business. Not to mention the type of equipment "semis" that you need to transport these extremely heavy duty steel trailers to your home town, then unload the trailers and bins with 35,000 lb forklifts, and assemble them. This is not an amazon delivery.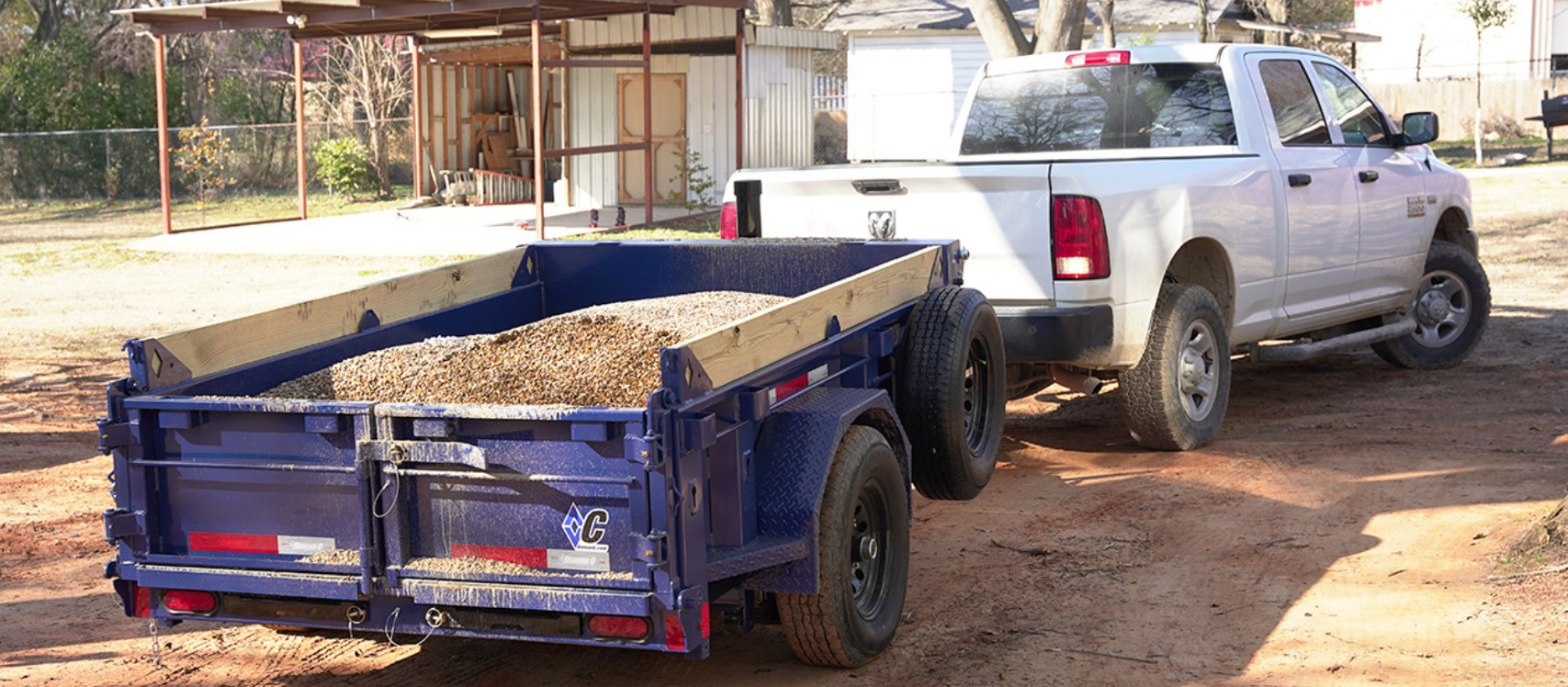 There is no cost cutting or magic in building a quality dump or roll off trailer. The recipe for quality is solid frame engineering, quality steel, high end parts, best in class hydraulics, excellence in workmanship, and master welders. We have heard every story from customers that went on the "cheaper price" that they "wished" they bought quality instead of the "cheaper dump trailer."
Dump trailers are available with all types of options and come in all types of sizes. Central Trailer Sales Broken Arrow, OK is going to talk about some of the things to consider when purchasing a dump trailer. We hope that this information provided will help you in your journey to select the best possible dump trailer for your business, and professional activity.
We are going to start talking about the lift system which is the backbone of the dump trailer, and probably the most important component on the dump itself. Dump trailers can be outfitted and purchased with the scissor lift, or a telescopic lift. Both lift systems get the job done, however scissor lifts are placed at the midpoint of the trailer. When you think about this placement configuration, it's important to remember that the more load you have in front of the midpoint of the scissor lift mechanism, the more difficult it will be for the hydraulic scissor lift to pick up the load. This is not the best leverage point in a dump. It is very good in terms of stability but its weakness is the leverage point compared to the telescopic lift attachment point in the front of the dump bed.
Scissor lift works well, and have been a tried and proven lift mechanism for decades. The alternative to scissor lift mechanisms is the telescopic lift. The telescopic lift is placed on the very front and center of the dump trailer which is the optimum leverage point, and picks up the dump bed from the exact center point of the dump bed. The telescopic dump lift uses hydraulic energy while lifting the dump trailer bed, and then switches to gravity while descending which saves battery use on the trailer. Telescopic lifts are far more forgiving in overloading situations than scissor lifts because of their attachment point on the dump bed. This front placement provides a leverage advantage for lifting dump loads. The only downside is that it has only one attachment point in the front of the dump. It does not provide as much stability as the scissor lifts two anchor points. We have yet to see a telescopic lift point break, or fail, but recognize that the two anchor points are stronger than one. The only downside to the scissor is the dump bed anchor point which has less leverage.
As mentioned previously, both are excellent lift systems, and have unique benefits. Telescopic hydraulic dump lifts have been used in full size commercial dump trucks and dump trailers for years. There are only a select few trailer manufacturers that have incorporated them into the gooseneck and bumper pull dump trailers.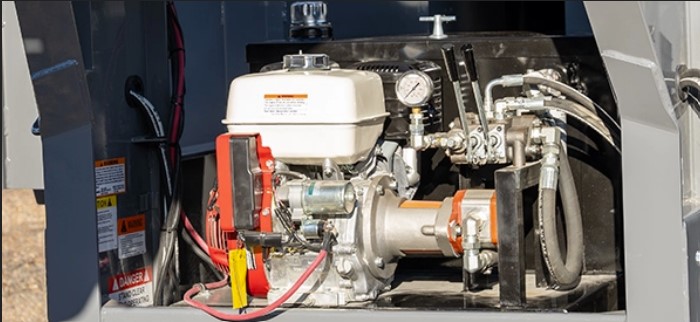 We want to point this out not for preference one over the other but specifically so that you understand the differences between them. One thing we have discovered working with dump trailers over the years is that it is critical to maintain a fully charged battery when operating the dump trailer. The lift mechanism requires a lot of power to drive the hydraulic pump and motor. When the battery is low there's not enough pump power to drive the lift mechanism and as a result the hydraulic fluid will sometimes come backwards through the hydraulic oil reservoir. Let me tell you, this creates a big mess in your battery and pump box. We highly recommend maintaining a trickle charge on the battery at all times, or even better purchase a second battery, and a solar charger mechanism. This small cost will add a tremendous amount of performance and avoid unexpected headaches from a low battery.
Dump trailers and roll-off trailers come in a variety of length and sidewall heights. This enables you to adapt your dump or roll off trailer to your specific type of work. The length of the dump bin is providing you more capacity overall, while the height actually has a different role than what most customers think. Dump trailers and roll-offs with high sides are typically used for large debris, wood, construction materials, branches, and things of this nature. Dump trailers and roll offs that have lower sides are typically used for heavier weight, like chunks of concrete or heavy rock. The idea behind this is the high walls keep the debris inside the bin, or dump trailers. A tarp kit is available, and really helps prevent damage to other vehicles keeping debris, and rocks from flying out of the trailer while on the highway.
Lower dump and roll off bin sides are better suited to rock, cement pieces, sand, gravel have a very dense weight. The lower sides help the operator remember that there is a max load capacity. The fill height, or height of the dump bin can "sometimes" be close to the actual GVWR ( gross vehicle weight rating) or weight limitation. The lower sides can help to remember to limit the amount loaded into the back of the bin or dump trailer when reaching the wall height. If you loaded a dump trailer with 4' walls to the top with rock, sand, gravel, chunks of cement the trailer would definitely be overloaded on two 7K lb axles. This could be a helpful way of keeping you and others safe, as well as preventing damage to your dump or roll off trailer.
Extensions are available for the sides of the dump trailer. If they come from the factory they are manufactured from steel and slide into the state pocket locations distributed around the bed of the dump trailer. This is a great alternative in the event you want to have the flexibility of low sides for heavy loads of cement, rock, broken cement, and stone. Then you can put on the extensions when you want to haul lighter debris and make sure it stays in the back of the dump trailer. An alternative to these heavier, and more expensive sides would be to build sides out of plywood and 2x4s. They work very well and can be lifted in and out far easier than the steel extensions. Additionally, they are more cost-effective and can be done by one person whereas the other sides will require at least two people to lift them up into place. This provides the best of both worlds; low and high sides for any type of dump application.
Axle sizes are another consideration for your dump and roll off trailer. The axle plays a part of the equation in the dump trailer capacity but not entirely. The axle size could actually be greater than that of the lifting capacity of the scissor lift, or telescopic lift. This should be considered carefully, as many people think that because they have huge axles on their dump trailer they can load it beyond its actual capacity. When considering the weight of a load of material in a dump trailer, or a roll off trailer we need to also consider the actual weight of the trailer and bin, or roll off before considering the load capacity. There is a simple equation to understand and calculate the trailer capacity. The GVWR "gross vehicle weight rating" minus trailer weight and bin equals actual capacity. Here is a quick example of dump trailer or roll off capacity. If you had an axle capacity of 14,000 pounds and a trailer that weighed 5500 lb you would have a 8500 lb capacity for loading. This would be the maximum weight your dump trailer or roll off trailer could safely haul.
Since we're on the topic of length, and side Heights we should talk about some new innovations that have come into the market. There is a new dump trailer on the market built for landscapers, and dirt work that is 14 ft long by 102 in wide (14 'X 102" ). It is essentially a "deck over" dump trailer. The cool thing about this trailer is that it allows for a very wide surface area in which you could load pallets, work equipment, etc. The main difference from other dump trailers is that the sides drop down on the right and left side of the dump trailer. This is incredible as you can use your skid steer to lift pallets in and out on both sides. Additionally if you had a limited workspace and could only access the trailer from the side this would work out extremely well. These trailers also have slide out load ramps which would allow you to drive your skid steer, bobcat, tractor, or excavation onto the dump trailer bin, and secure it with D-rings on the bed of the dump bin for safe hauling.
The construction of a dump trailer is critically important. We have seen dump trailers that have had sheets of steel welded together seam to seam get destroyed during the loading process with heavy cement, and rocks. The dump trailers that we sell have overlapping steel and are welded on both the top and the bottom of the bed. Also our dump trailers have huge steel reinforcement beams down the bottom of the trailer to prevent any type of debris, chunk of cement, huge piece of wood, or loading equipment going through the floor and penetrating the floor of the dump trailer, or breaking the welds. When you have a continuous sheet of steel that overlaps the other sheet of steel. You prevent water from settling into the weld joints. This helps stop water settlement, corrosion, decaying, and breaking weld joints. This is part of what we talked about earlier: there is no smoke and mirrors in the construction of a quality dump trailer. Lower end dump trailers are always manufactured with lesser gauge steel than high end dump trailers. This greatly affects quality, as well as why the cost of trailers vary in price. Thicker gauge steel cost considerably more thinner sheets. This is where you get your strength, longevity, and quality of build with the combination of excellent craftsmanship, welders, design, quality parts, powder coating, and painting.


In our previous article we talked about the benefits of a bumper pull versus a gooseneck and vice versa. Both bumper pull dump trailers and gooseneck dump trailers are very well suited to do the job. One trailer is not better than the other, it comes down to the specific application of the trailer, size, users, tow vehicle. We can configure a bumper pull dump trailer that is as strong as a gooseneck in the same size dump up to 16' feet in length. Beyond 16' in length gooseneck is the only option available with most vendors. The main benefit, or plus on the gooseneck is the distribution of weight on the tow vehicle.
Most dump trailers come with pull out ramps on the rear end of the trailer. These are usually extremely heavy duty ramps that can be used to load a skid steer, small backhoe, Bobcat, or whatever type of heavy equipment you're using. These ramps slide in and out of the dump trailer pretty easily and can lock in place for transport. Additionally most dump trailers have a storage location for Forks on the side of the trailer which are really easy to access and make life a lot easier to transport them. Roll off dump trailers do not have ramps as they roll off onto the ground. Something to consider if you are thinking about carrying a skid steer in the back of your trailer. You could not hoist a skid steer in the back of a roll off trailer bin.
Here are some other important things to consider about your dump or roll off trailer construction.
DOT compliant led trailer lighting
Load lighting
Insulated wiring harness
D-Rigns in the dump bin
Upgraded trailer tires 14 or 16 ply.
Solar power charging
Wireless remote control to operate dump
Hydrualic trailer jack
Tarp Kit for roll off bins and dump trailer
If you have any questions about Diamond C, Raw Maxx, or Delco trailers feel free to reach out to Central Trailer Sales 9819 S. 235th East Ave Broken Arrow, OK 74014 918-251-4496 with any questions.